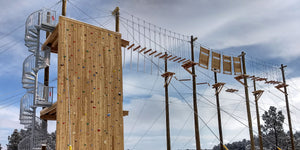 OVER 40 YEARS OF EXPERIENCE
Custom Adventure Course Design
Your Challenge and Climbing Adventure Starts Here!
ABEE is a full-service aerial park, challenge course, and canopy / zip line tour company that provides services in adventure education and experiential program design to educational institutions, camps, conference and outdoor education centers, resorts, health care providers, and corporations.
Reach New Heights
Custom Adventure Course Designs & Trainings
We design, install, inspect, and equip courses all over the US as well as internationally. In addition, we provide certification trainings for staff that can be tailored to specific courses.
ACCT Professional Vendor Member
ACCT Accredited
ABEE is a well-seasoned and experienced provider that incorporated and initiated business in the mid-eighties. As a Professional Vendor Member (PVM) of ACCT (Association of Challenge Course Technology) ABEE is accredited to provide course installation, inspection, training and certification. ABEE has had a significant history with the Association since its inception through active representation on the board of directors, technical operations and installation standards committees, and numerous panels and task force groups.