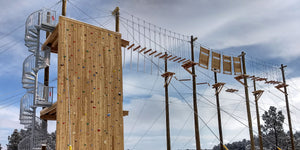 Over 40 Years of Experience
Customized Course Design
ABEE has been designing courses for more than 40 years, and as the industry, technology, and needs of our clients have evolved so has our design work. We pride ourselves in creating custom courses that are unique to each client's site and vision.
Our designers use client input, along with program and operational goals to create a unique structure all while keeping budget in mind. Whether you are looking to install a traditional challenge course for educational use, or a large aerial park and zip line tour with high throughput, we are the company for you! Along with years of inhouse design experience ABEE maintains a close relationship with some of the leading engineers in the field. Through these relations we have been able to bring dreams to life.
ABEE is unique when compared to other companies in the industry. We pride ourselves in offering custom courses that are right for specific needs of our customers. Let our design staff hear your unique goals and we'll develop a course and program that is right for you.
View our project gallery to see our past designs and builds.
New Installation
Since ABEE's inception we have always used quality materials and superior building techniques with our challenge courses, aerial parks, climbing walls, zip lines, and universal designs.
Our installations meet ANSI/ACCT standards and local jurisdictional requirements. When planning a new installation, we always include necessary operational equipment and an initial staff certification training in the cost.
Upgrade Your Course
Consultation, Repairing, or Retrofitting an Existing Structure
Consultation services are available to help organizations modify their existing course or adventure program to meet the needs of today's participants. This can include upgrading to a smart or continuous belay system, adding adaptive equipment or universal elements to integrate persons with limited abilities, or more advanced staff training.
The best way to improve your program, receive feedback, and assure you are meeting current ANSI/ACCT Operation Standards is by going through a Program Review.
Repairs and Retrofits
Does your current course need repairs or upgrades to continue operating at its best? ABEE can help with that! Our goal is to provide cost effective repairs that are in the best interest of your program and participants, while continuing to meet current ANSI/ACCT standards.
ABEE also provides custom retrofit packages to existing programs that want to update their course. This can include:
Replacing older elements with new attention-grabbing events or more team-oriented activities.
Adding adaptive and universal components to create a more inclusive program.
Upgrading to a smart or continuous belay system, which increase throughput and provide additional safety over traditional lobster claws. To see these systems in action, watch the SmartSnap and Kong Systems videos below.
Technical and facilitation skills training is included with all retrofit construction that alters current operations.
Contact Us About Updating Your Course
Watch Smart And Continuous Belay Systems In Use