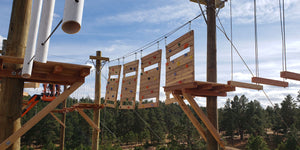 Annual Technical Inspection
Technical Course Inspections
ABEE provides technical inspection services for all your adventure courses; indoor, outdoor, high and low challenge courses, climbing walls, aerial parks, and zip lines. All technical inspection assessments are based on criteria required by current ACCT Standards. ABEE's inspectors have years of experience in both construction and inspection of adventure courses. Each meets the Qualified Course Professional (QCP) criteria for inspectors outlined by the ACCT.
Review And Adjust
Inspection Details
Inspections are typically completed in one day and include a visual and physical review of course components and structure, all operational equipment, and the surrounding environment. Minor adjustments will be made as necessary and a written evaluation that addresses required changes for standard compliance will be provided.
Request AN Inspection
Asterisk (*) indicates a required field.
{formbuilder:NjQ0Mjg=}