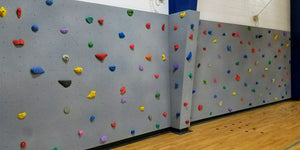 ABEE installs indoor and outdoor climbing walls customized to your space and organization. There are a variety of features to choose from that will help create diverse routes for all climbing levels. An ABEE wall will add a unique and eye-catching element to your program.
Customized Climbing Wall Design and Construction
ABEE designs and builds climbing structures of the finest quality in the challenge course industry. With diligent attention to craftsmanship, detail, and finish work, ABEE's master carpenters' custom-design each climbing wall and tower to include unique features, tailored to the needs and vision of the client.
A variety of contours are available on all climbing surfaces including: positive pitches (inclines), negative pitches, side gables, overhangs (slight to aggressive), "crack" simulations, and chimneys. ABEE takes great pride in the distinctive appearance of each and every climbing tower and wall they construct.
Take a look at our project gallery to see more past climbing wall builds.

Top-Notch Climbing Structures
ABEE encourages you to compare the design, structural integrity, visual appeal, and overall usability of their climbing structures against other similar products in the field. In doing so, it's easy to see why ABEE is a step ahead of the competition, and truly in a league of their own.
View Project Gallery
Indoor Climbing Walls
ABEE custom designs every indoor climbing wall to meet the needs of the client and conform with the layout and structural realities of the proposed site. Size, features, contours, and difficulty can vary depending on the focus of the program. ABEE welcomes and strongly encourages client input and involvement in the design process of indoor climbing wall projects.
ABEE's indoor climbing walls are designed to utilize framing and surfacing with strength, stability, and longevity in mind. All climbing walls are finished with an industrial-grade slightly textured surfacing, interchangeable climbing holds, and belay applications that meet or exceed current ANSI/ACCT Design and Installation Standards.
Our project gallery has a variety of indoor climbing wall examples.
Outdoor Climbing Towers and Walls
ABEE is one of the largest full-service providers of outdoor climbing towers and walls in the United States. Offering a variety of options in size, features, and design, ABEE works to deliver a climbing structure that best fits the programmatic needs of our clients. Traditional design options include:
Two, three, and four pole structures.
Single or multiple climbing faces.
Incorporating challenge course activities into the structurs.
Assorted contours.
Roofs, stair access, and ladder access.
Integrating zip line(s).
Using auto belays.
View more examples of our outdoor climbing walls and towers in our project gallery.
What Are You Waiting For?
Reach out and discover what kind of custom climbing wall or tower ABEE can create for you.