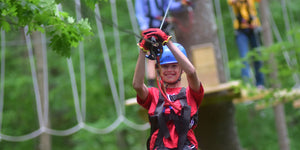 It's Like Flying
Custom Built Canopy and Zip Line Tours
Zip lines are an exciting and adventurous experience for people of all ages. Whether installing a single line, incorporating zip lines into your current program, or looking to build a full canopy zip line tour, we are the company for you.
Working with industry leading engineers and the latest in brake technology, an ABEE built zip line is sure to thrill all riders.
Check out our project gallery to see a variety of our past zip line builds.
Check Out ABEE Zip Lines In Action
Dells Zipline Adventure - Wisconsin Dells, Wisconsin
Chula Vista Resort - Wisconsin Dells, Wisconsin
What Are You Waiting For?
Reach out to see what kind of zip line or canopy tour ABEE can build at your site!